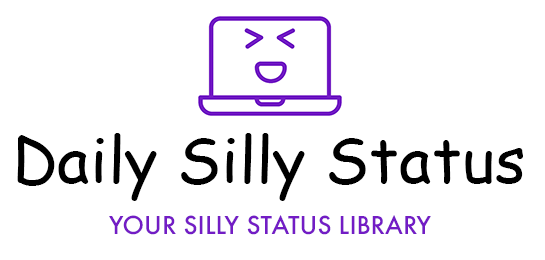 Daily Silly Status is your home to over 25,000 silly facebook statuses!
Daily Silly Status has scoured the internet for the most witty statuses, silly statuses and down right funny statuses. We are pleased to now share our findings with you our Daily Silly Status readers. Enjoy our growing collection of over 25,000 silly statuses and share them with your friends and family and help bring a smile, chuckle or laugh others. Remember to check in for daily updates.
My horoscope started with `are you sitting down?`

When I try to fold fitted sheets it looks like I'm in an infomercial that's exaggerating how difficult it is to fold fitted sheets.

My Wife: Why are you home so early? Me: My boss told me to go to hell

If you speak too slowly, I will complete all your sentences in my mind in ways that makes your story much more interesting

DO NOT LIKE THIS… Unless you're a sexy beast.

I don`t want to set the world on fire........just you.

Just once, I`d like to see an honest Facebook status, like "happy birthday to my average-looking, sort of friend, Amanda!"

I am a Mother hear me roar.....especially when my kids decide to make a kite out of my granny panties and fly it down the street.

and alcohol are now friends.

As i get older i realize I do a LOT more YOGA...attempting to tie my shoelaces

I sold my house this week. I got a pretty good price for it, but it made my landlord mad as hell.

Just because I'm smiling, doesn't mean I don't want to hit you in the face.

once you delete your birthday from Facebook, you realize no-one ever gave a sh!t about you all along!

Sometimes in life, all you really need is a lot of money.