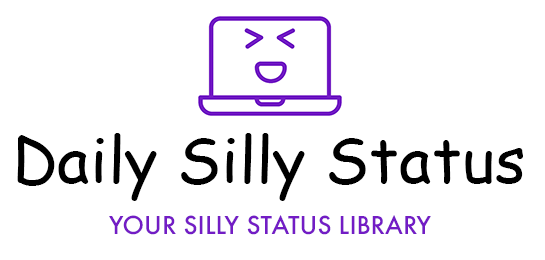 Daily Silly Status is your home to over 25,000 silly facebook statuses!
Daily Silly Status has scoured the internet for the most witty statuses, silly statuses and down right funny statuses. We are pleased to now share our findings with you our Daily Silly Status readers. Enjoy our growing collection of over 25,000 silly statuses and share them with your friends and family and help bring a smile, chuckle or laugh others. Remember to check in for daily updates.
What do you call a guy who makes "Woman in the Kitchen" jokes? Single.

Shopping tip: You can get shoes for a buck at bowling alleys.

The best neighbors are the ones you never see.

Hi, you`ve reached my voicemail. Why didn`t you text me? I`ll never call you back. Like, ever. You`d have better luck with a telegram.

You`ve never been truly drunk until you`ve had to use a barstool as a walker to get home.

My reaction to winning a billion dollars wouldn`t even come close to my 10 year old`s reaction when I told him that there`s no school today.

I like people... From a distance.

If you are what you eat then where is this place that a ton of people are eating stupid?

Since it is the day to give thanks, I would like to say once again...you`re welcome.

My girlfriend left me because I`m a legend ... Or to quote her, `Arrogant`.

In retrospect, I suppose "harder" wasn`t the best choice of a safe word.

If that was me in the movie Taken, my dad would have missed the call and emailed me 3 days later asking if I have a job yet

SAFETY TIP: Lock your doors and windows before bed. By the way, I love what you`ve done with the place.

If one door closes and another one opens, seek help your house is haunted.