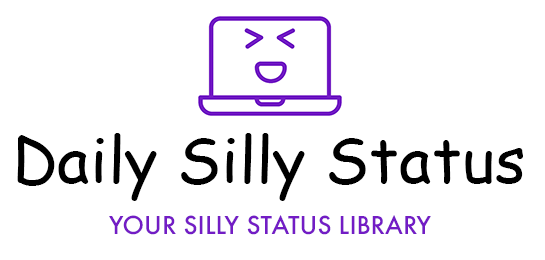 Daily Silly Status is your home to over 25,000 silly facebook statuses!
Daily Silly Status has scoured the internet for the most witty statuses, silly statuses and down right funny statuses. We are pleased to now share our findings with you our Daily Silly Status readers. Enjoy our growing collection of over 25,000 silly statuses and share them with your friends and family and help bring a smile, chuckle or laugh others. Remember to check in for daily updates.
"I don`t know what the f*ck this tastes like." - first person to eat chicken.

If this world got any smaller I`d probably fall off - George T. Ignace

I like it like that

"Everybody freeze!" -December

The office Christmas party is a great opportunity to catch up with people you haven`t seen for half an hour.

I go to a gym called Resolutions. It has exercise equipment for the first 2 weeks of each year, then becomes a bar for the remaining 50.

My pet unicorn told me that I was being delusional again. :/

This silly farmers market doesn`t have any locally grown pizza.

My therapist says I am too preoccupied by vengeance.... We`ll see about that.

I won $20 by not playing the lottery last night!

Working in retail has taught me that the customer is always right. At least while they`re in earshot...

When I was a kid, I thought quicksand was going to be a much bigger problem than it really is.

Its better to have loved and lost, then stay with that psyco for one more sec

The point of no return sounds like a fun vacation spot.