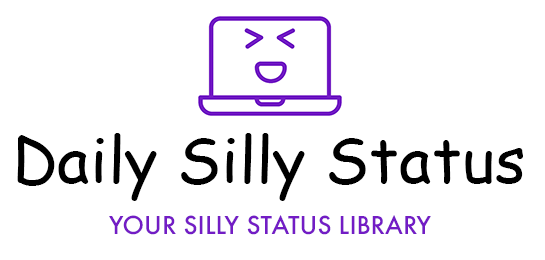 Daily Silly Status is your home to over 25,000 silly facebook statuses!
Daily Silly Status has scoured the internet for the most witty statuses, silly statuses and down right funny statuses. We are pleased to now share our findings with you our Daily Silly Status readers. Enjoy our growing collection of over 25,000 silly statuses and share them with your friends and family and help bring a smile, chuckle or laugh others. Remember to check in for daily updates.
Have you ever looked at your ex and wondered...WAS I drunk the whole time?

there is a big difference between spray tanned and looking like you rolled in nacho chesse doritos.

Before I wash my socks, I just throw one in the trash.

If I have offended you, hurt you, belittled you in any manner, then I want you to know that I was only just getting started.

I`m "keeps a pair of underwear in the glove box because I don`t trust my farts anymore" years old.

Love means never being able to like another girl's selfie on Instagram ever again.

Somewhere, right this minute, someone is reading this sentence.

Today, I`m really gonna give it my nothing

I once ran a Half Marathon. Well, I say that because it sounds better than saying I collapsed and almost died halfway through a Full Marathon.

Well the Christmas tree is out of the house, and back on the rear view mirror.

If goldfish crackers actually tasted like goldfish-- wait, I just realized I`ve never tasted a goldfish. What if the crackers are accurate?

Teacher: Have a seat! Student: Thanks! *picks up the chair and leaves* -- (°_°)

I wish the minutes after hitting the snooze button lasted as long as microwave minutes.

Remembering to remember is always the first thing I forget.