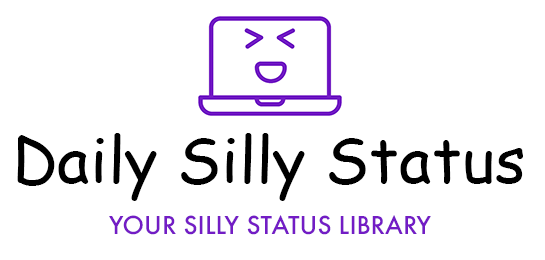 Daily Silly Status is your home to over 25,000 silly facebook statuses!
Daily Silly Status has scoured the internet for the most witty statuses, silly statuses and down right funny statuses. We are pleased to now share our findings with you our Daily Silly Status readers. Enjoy our growing collection of over 25,000 silly statuses and share them with your friends and family and help bring a smile, chuckle or laugh others. Remember to check in for daily updates.
I`m a spontaneous procrastinator

Sorry I pissed you off, but I find you much more entertaining this way.

Getting out of bed feels like the worst thing that's ever happened to me ... every time it happens.

Gift cards: The best way to say "Here, you figure it out..."

Paint thinner? I call bullsh!t. I been painting myself with it all week and I`m still fat.

Hey! Wanna make $$$$$$ fast? Just follow my simple instructions. 1:Hold down the Shift key 2:Press the number 4 six times. It's that easy.

Those who stir the sh!t pot should have to lick the spoon.

Old is when you start thinking about the things you used to do more than the things you're going to do.

I can`t tell if I actually have free time, or if I`m just forgetting everything...

More people should be at a loss for words.

I don't have a problem with friends who ask to borrow money. I love a good laugh as much as the next guy.

"If your reading this, I think your awesome!"

Follow your dreams. Unless it's a person ... apparently they call that stalking.

Creativity is great, but plagiarism is faster.