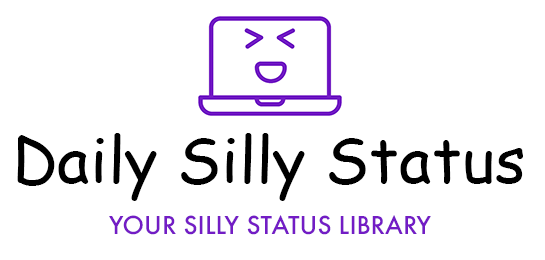 Daily Silly Status is your home to over 25,000 silly facebook statuses!
Daily Silly Status has scoured the internet for the most witty statuses, silly statuses and down right funny statuses. We are pleased to now share our findings with you our Daily Silly Status readers. Enjoy our growing collection of over 25,000 silly statuses and share them with your friends and family and help bring a smile, chuckle or laugh others. Remember to check in for daily updates.
I miss the good old days when we blamed Marilyn Manson for all our problems.

I wouldn`t say I`m an alcoholic. I`d slur it.

You, my friend, deserve a high-five... that's four more fingers than I normally give.

I'm at the doctor's office & they don't know why I have this rash on my balls. Guess I'll wait for the Dr, these other patients are clueless.

For the first time in my years of working I have been hard at work all day......dammm those pills!!!!

I'm not shy, I'm holding back my awesomeness, so I don't intimidate you..

Facebook has suggested that I POKE you.

No, an erection is not considered personal growth.

I`m high as a kite! Let me rephrase that: I`m stuck in a tree.

If anyone is interested I`ll be signing books tomorrow at Barnes & Noble from 6:00pm until I get escorted out by security.

Hockey: because running on knives makes sense.

Alcohol doesn`t get people drunk, people get people drunk. Drunk people get other drunk people extra drunk.

Due to no supervision and sheer lack of self control; I sincerely with GREAT guilt! Here now inform you. I ate your banana split

I hate when I`m about to hug someone really sexy, and my face hits the mirror.