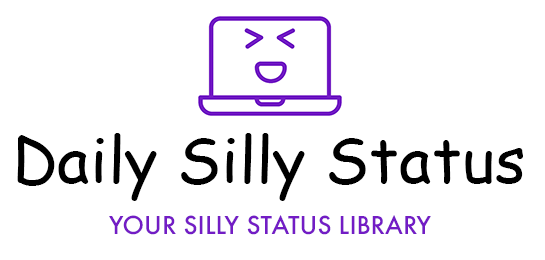 Daily Silly Status is your home to over 25,000 silly facebook statuses!
Daily Silly Status has scoured the internet for the most witty statuses, silly statuses and down right funny statuses. We are pleased to now share our findings with you our Daily Silly Status readers. Enjoy our growing collection of over 25,000 silly statuses and share them with your friends and family and help bring a smile, chuckle or laugh others. Remember to check in for daily updates.
You can stop lifting weights now; it's actually your personality that nobody likes.

Relationship status: my cat won`t sit still for our selfies.

Valentines Day is the only day of the year that the guy with the smallest package gets the girl.

If life is a Bitch, then why hasn´t it made me a Sandwich?

The ultimate act of trust is buying your spouse a gun, and then showing them the correct way to use it.

Most people don`t think I`m as old as I am until they hear me stand up.

On your birthday I think the Airlines should let you exit the plane on the inflatable slide.

The skeletons in your closet are suggesting that you upgrade to a double wide, walk-in.

When someone says "You just made my day," it makes my day.

I finally quit eating pizza for good, now I only eat pizza for evil.

My dog just saved my life by ferociously barking at nothing outside.

Right now my glass is half empty...Hey Bartender!!!

Seriously, dude...Is there a name for what`s wrong with you?

The less you know, the more you think you do.