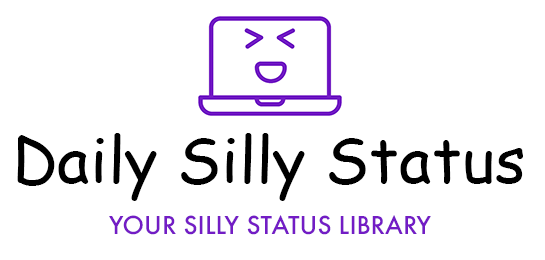 ---
Saturday September 30, 2023
---
Daily Silly Status is your home to over 25,000 silly facebook statuses!
Daily Silly Status has scoured the internet for the most witty statuses, silly statuses and down right funny statuses. We are pleased to now share our findings with you our Daily Silly Status readers. Enjoy our growing collection of over 25,000 silly statuses and share them with your friends and family and help bring a smile, chuckle or laugh others. Remember to check in for daily updates.
Does this status update make me look fat?

Have you noticed that tire stores never hang big banners that say "Blowout Sale"?

Tomorrow the world shall be ours! Until then, good night my evil minions!!

Patience is not about how long you can wait, but how well you behave while waiting.

If someone starts a sentence with "words can`t express," brace yourself, because they`re about to give it a hell of a try anyway.

I have just one thing to ask you people who say the memory is the first thing to go: What did I come in here for?

Found out today your supposed to urinate on a jellyfish sting, not a jelly stain. Sorry lady at waffle house....just trying to help.

Just so you know, I am already planning on being an a$$hole tomorrow.

Use Angie`s List if you want a plumber to come over. Use Craigslist if you want that plumber to come over with no pants.

You can go anywhere you want if you look serious and carry a clipboard.

My box of animal crackers says "May contain nuts." So I`m inspecting each animal before I eat it...just in case.

Why aren't mustaches called mouth brows?

roses are red, violets are blue, god made everyone beautiful, what the hell happened to you?

I have an inferiority complex,,,,,, but it isn`t a very good one.